It's that time of year again where you get your thinking cap on and decide what to buy for Christmas for everybody who matters in your life. Of course, there are a million and one things whirring around everybody's head pre-Christmas and we wanted to make the gift-buying process easier and one less thing to worry about. So, we thought we'd put together a list of gifts that will thrill every coffee-lover in your life. From affordable to luxurious, high-tech to alternative, we've got something guaranteed to bring joy to every coffee-love this Christmas. Without further ado…
1. The Ultimate Coffee & Chocolate Selection Box
Keep everyone happy this Christmas with a coffee selection box. This showstopper includes all of our favourite characters from our Signature Collection, in all of our most convenient brew types plus each coffee's paired chocolate!
The Ultimate Coffee & Chocolate Selection Box includes:
12 x Nespresso® Original compatible pods
12 x Coffee Bags
6 x 30g Ground Coffee sachets
12 x Individually wrapped chocolates
Brew guides & tasting sheet
£34.99 Available to buy here.
2. The Pod-tastic Morning Machine
A revolution in home-brewing, the Morning Machine uses a range of unique features and state of the art technology to make this the best pod machine on the market. The technology behind the machine is truly revolutionary:
An interactive OLED touch screen and dial allows you to scroll and draw data at the touch of a button while the built-in TDS metre helps to calibrate the water to optimal brewing levels. A separate water spout dispenses clean water to prepare a variety of other beverages like drip bags, tea and instant coffee.
Once a brew is initiated, an elaborate algorithm dictates the pressure and intervals at which water is passed through your capsule. As your cup fills, a scale quietly measures beverage output and syncs with our pump to calibrate optimal output.
Plus, as an introductory offer, you'll receive a free Pod Taster Pack (60 pods) plus an EcoPress pod recycler with every order (Total bundle worth £385).
£349 Available to buy here.
3. Our Cool 'n' Collected Pod Bundle
Stay Cool 'n' Collected with our brand-spanking-new pod bundle.
Whether the person you're buying for is a lover of both light and dark chocolate profiles or perhaps lives in a household of mixed tastes, this new pod pack is the perfect gift to help them remain cool 'n' collected this Christmas. Your recipient will be able to choose from the warm, caramel notes of The Smart Cookie or the dark, fudge brownie notes of The Big Shot each time they reach for caffeine.
This Artisan Coffee Co. Nespresso® compatible pods pack includes three boxes each of The Big Shot and The Smart Cookie, plus paired chocolate flights. These two popular characters are equally delicious and guaranteed to please a crowd.
£29 Available to buy here.
4. Our Legendary Luxury Espresso Martini Gift Set
Developed by our very own award-winning chef Ashley Palmer-Watts (he of Michelin-renown), our a luxurious, decadent spin on the classic espresso martini is silky smooth, intensely festive, speciality coffee cocktail mix made with all natural ingredients – no additives or preservatives here!
Our Great Taste Award winning martini mix has been expertly blended using a combination of The Genius coffee infused winter wheat vodka, The Genius cold brew and a rich, silky, and seductively salted Demerara and Muscovado syrup.
Finish off the tipple with either pod espresso or bean to cup espresso and prepare to enjoy the ultimate coffee-based cocktail at home– simply shake over ice, kick back and enjoy!
Our Espresso Martini mix is delivered in our signature gift box and includes: 1 x 700ml bottle of espresso martini mix (27.5% ABV) Ashley Palmer-Watts' Exclusive Cocktail Recipes 20 x The Big Shot Nespresso® compatible coffee pods OR 1 x 240g The Big Shot whole bean coffee 1 x Boston cocktail shaker 1 x Hawthorne cocktail strainer
£59.99 Available to buy here.
5. A Great Taste Award-Winning Whole Bean Trio
Discover our Great Taste Award Winning Trio and best sellers with three of our most popular coffee characters and chocolate flights, delivered in our signature presentation box.
The absolute perfect gift for espresso lovers and a tasty introduction to the Artisan Coffee tasting experience. This collection includes The Big Shot, The Smart Cookie and The Enigma blends – the very same three blends that were deemed utterly delicious by the UK's most esteemed tasting panel earlier this year. Proud? Us? Just a little!
Plus with this collection your recipient will also be able to sample the delights of our chocolate flights; discs of delicious chocolate perfectly partnered to each coffee to amplify the characteristics in their cup. Sip back, and enjoy.
£25 Available to buy here.
6. The Ultimate Chocoholic Collection
Our Christmas-appropriate Chocoholic Collection includes a box of 10 chocolate flights in each character (that's 100 chocolates total!), plus a selection of our coffee bags so whoever you're giving the gift of chocolate to this Christmas can enjoy the full Artisan Coffee Co. coffee and chocolate tasting experience.
This is a collection box perfectly tailored for those seeking the ultimate chocolate and coffee pairing experience, to share with others or to enjoy all by themselves. It'll be delivered to your giftee's door in our signature gift box, giving it that extra special festive edge.
£33 Available to buy here.
7. Our Bespoke Gift Subscription or Gift Card
Not sure which coffee gift they'll enjoy the most? Why not let them choose for themselves! Our e-gift card is the perfect gift for all coffee lovers. Simply select the value you wish to gift - anywhere from £10 up - and we will send you an email with a printable e-gift card which can be hand-delivered or simply forwarded to the gift recipient. All our gift cards are valid for a full 12 months, so they'll have ample time to select something they really love.
Or for the gift that keeps on giving, you can allow your gift recipient to subscribe to a coffee subscription package that works for them! You pay upfront, and then they can choose from a range of brew types to fit their favourite ways to enjoy coffee, select from a bunch of coffee types, as well as from a range of different characters, and have quality coffee delivered to their door for either 6 or 12 months. It couldn't be simpler, and we can't think of a more generous way to show you care this Christmas.
Gift cards from £10 and 6 months subscription from £120 Available to buy here.
So, what are you waiting for? Show them you care this Christmas with one of our gifts for all coffee-lovers, no matter how they like their coffee or how they like to brew. Shop now to take advantage of our limited time only deals and prepare yourself for squeals of delight around the tree this holiday season!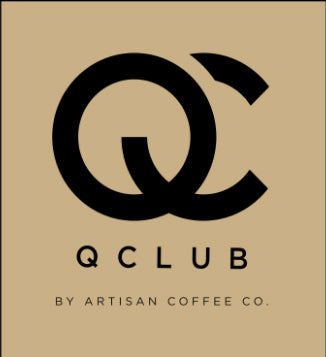 Are you sure?
By not selecting to receive marketing communications you'll lose most of the benefits associated with the QClub
Unfortunately one off product can't be purchased at the same time as subscription purchases.
Please proceed using separate transactions.
Unfortunately subscriptions can't be purchased at the same time as one-off purchases.
Please proceed using separate transactions.