Back To Top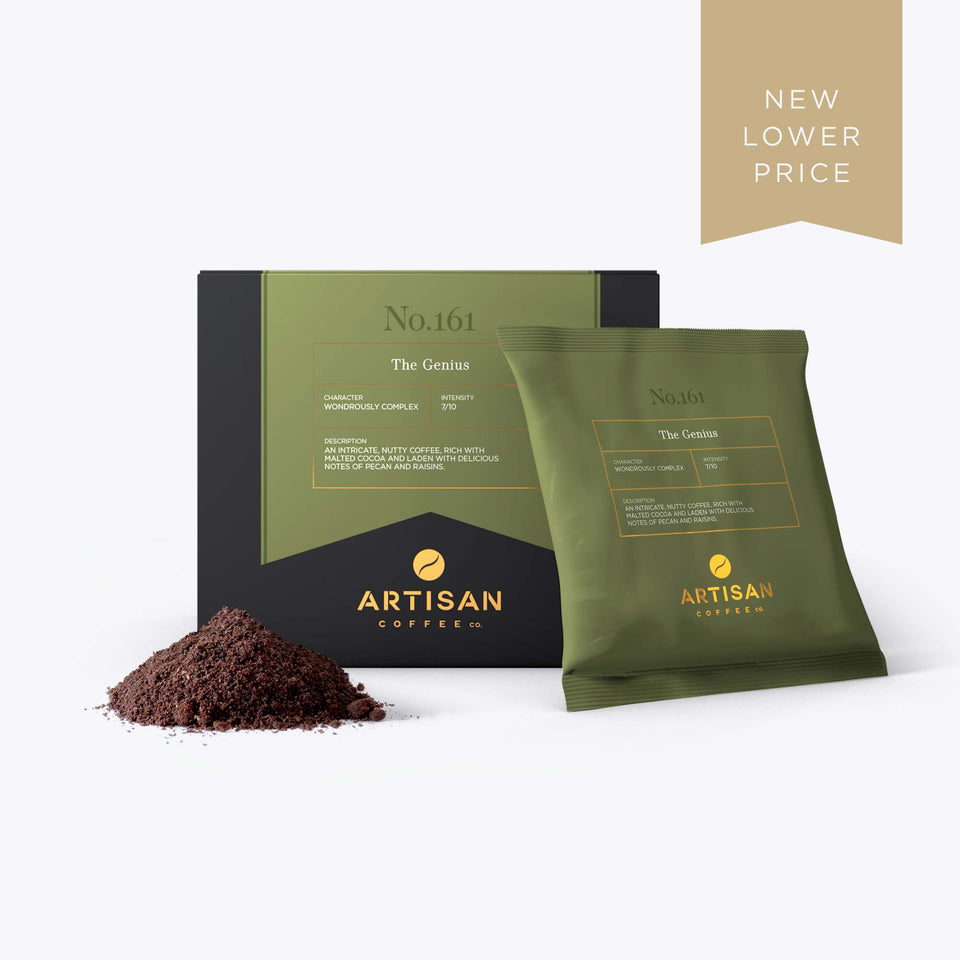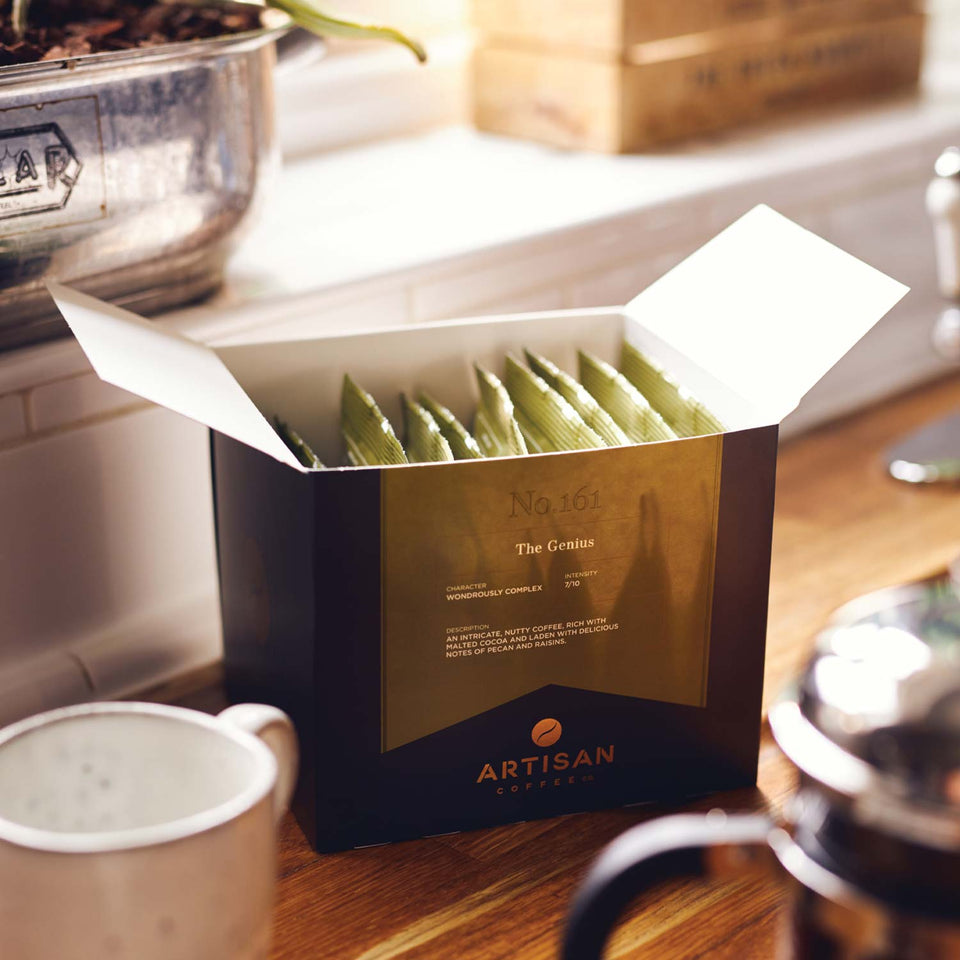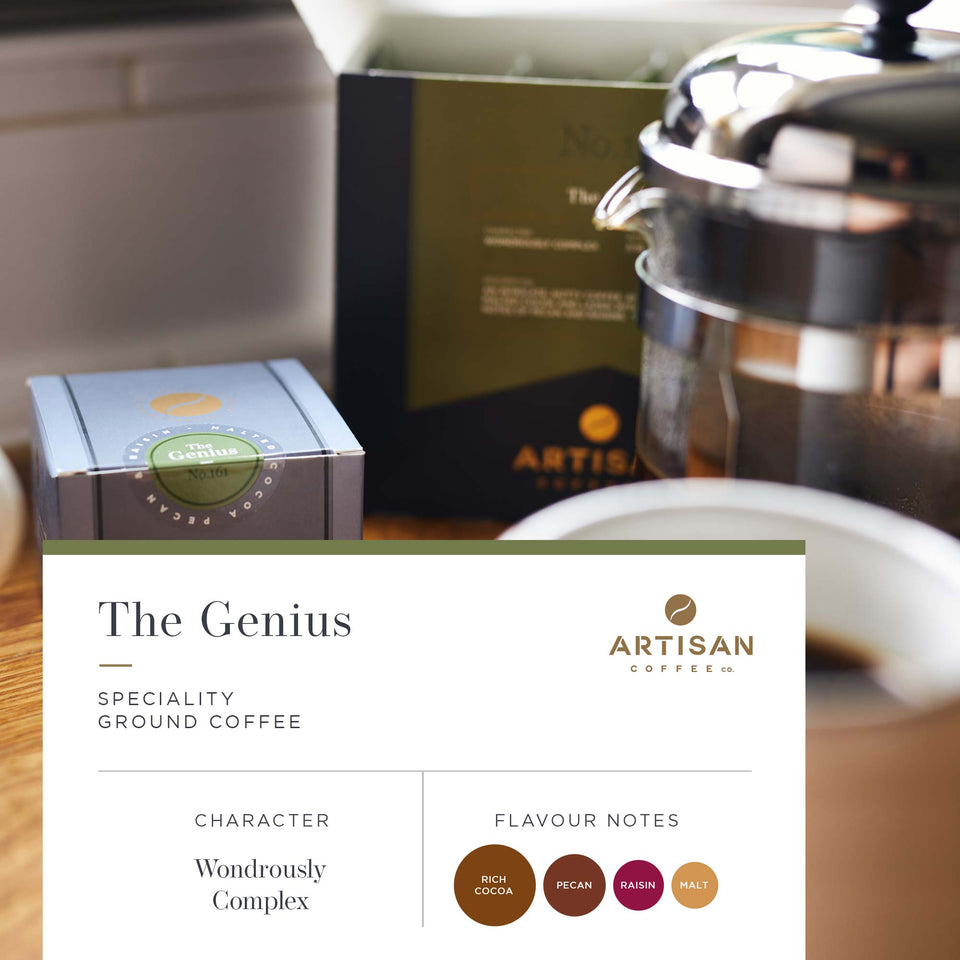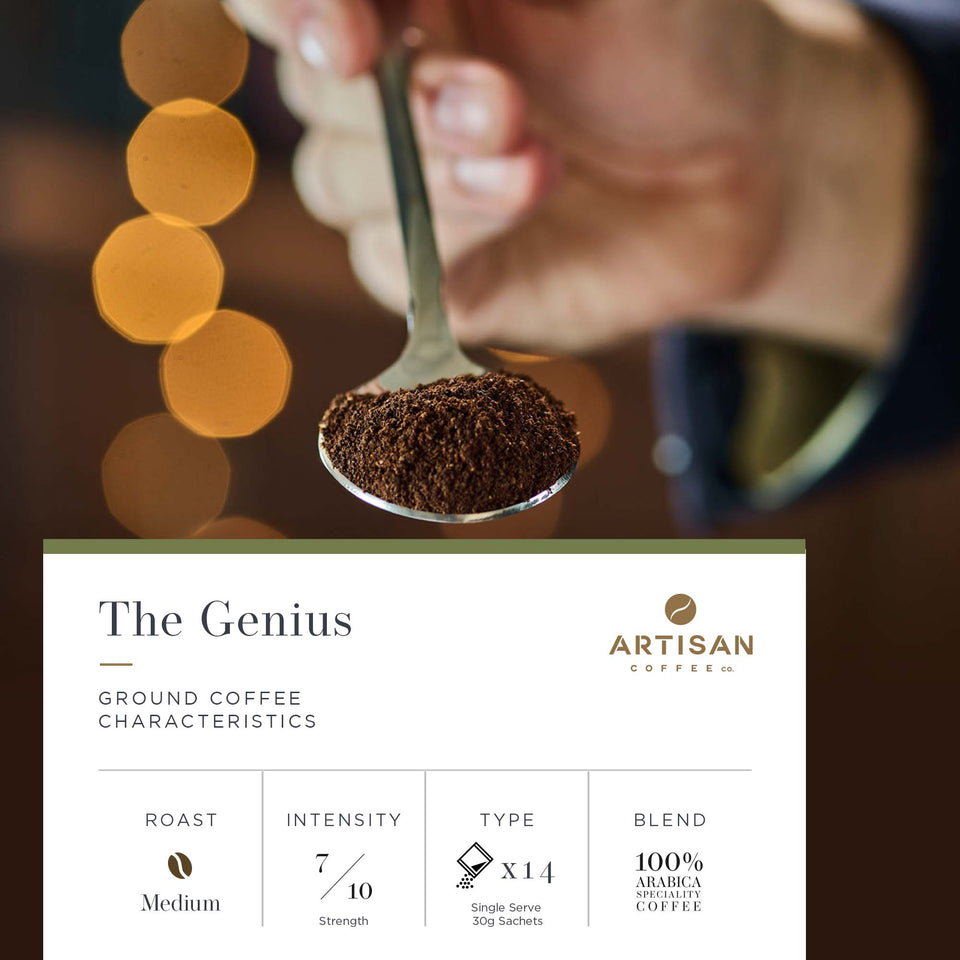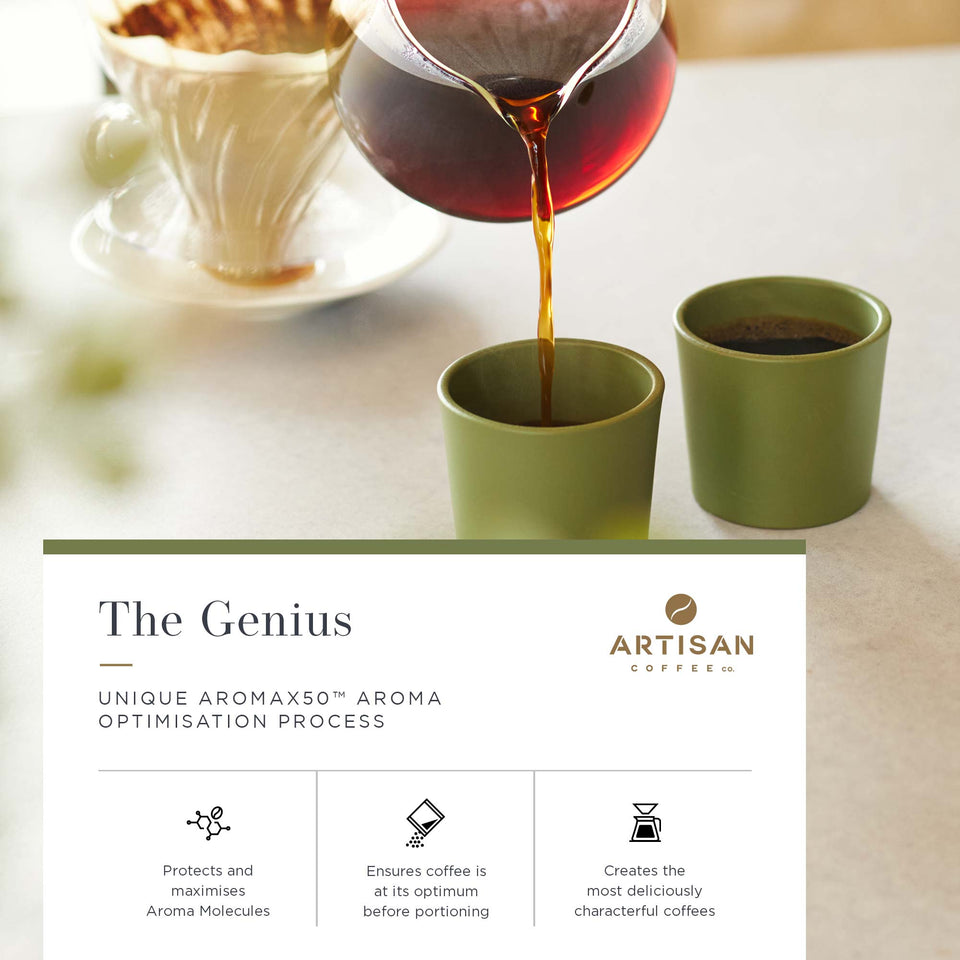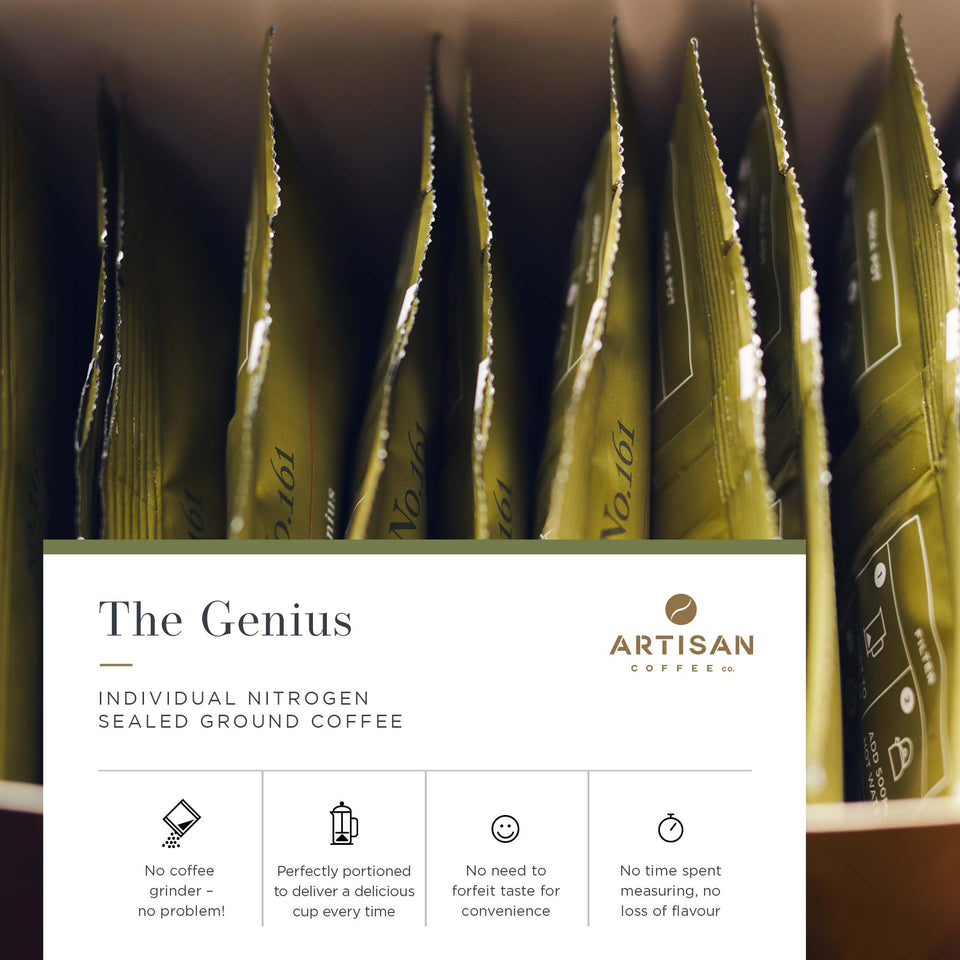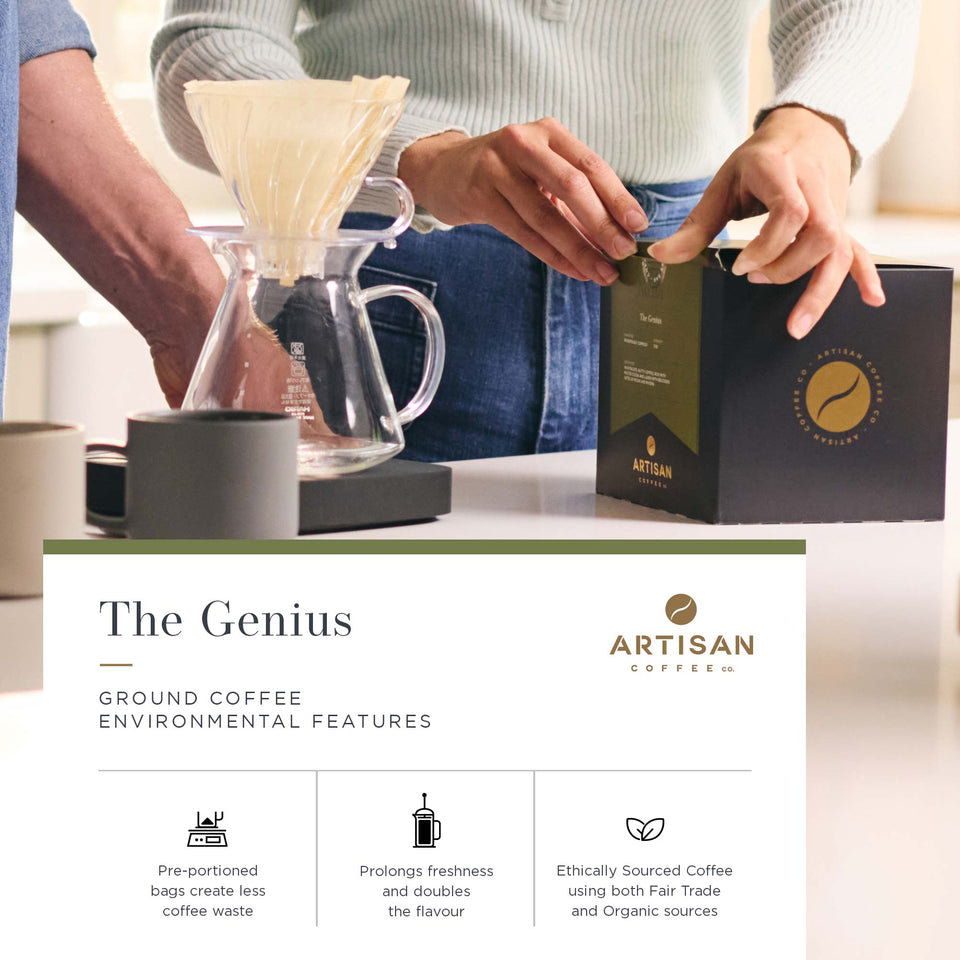 The Genius Ground Coffee
Intensity

7/10

Type

Ground Coffee

Weight

240g

No. Of Cups

32
Why do we portion our ground coffee in 30g sachets?
Typically ground coffee is sold in large bags of 250g, but as soon as you open a bag this size the coffee's freshness and aroma will quickly start to depreciate, resulting in a bitter, stale tasting coffee.
Our 30g ground coffee sachets are perfectly portioned so each coffee you make from the same pack will taste as fresh and delicious as the first. Precisely engineered so you never need to compromise ever again on your fresh coffee experience.
Better tasting and less waste. A true artisan coffee experience.
Notes of: Malted cocoa, pecan & raisin
Perfect Pairing:
The Genius Chocolate Flights
The Genius Chocolate Flights

Malted cocoa, pecan & raisin. Created to pair perfectly with The Genius coffees.
£6.00

Product Detail
Each box contains 8, single serve 30g sachets of freshly ground coffee
Each sachet perfectly portioned for a 500ml cafetière
Reduces waste: easy tear open, pour and brew
Each sachet is nitrogen flushed to maintain maximum freshness
Character
A uniquely tasty coffee blend. The Genius is an intricate, nutty coffee, rich with natural suggestions of malted cocoa and delicious notes of pecan and raisin. A delicious break from the norm.
Aromax50™
Our unique aroma optimisation process - Aromax50™ - allows Artisan Coffee Co. to protect essential aroma molecules. Our coffee is at its optimum before portioning into sachets with Nitrogen to suspend this coffee at its best until brewed. A pioneering process Artisan have introduced to maximise aroma into the most character coffee.

Our difference
Inspired by champagne houses, we blend and roast our beans to perfection. Developed with a Michelin-starred chef, this is coffee as you've never tasted before.

Packaging
Our coffee is sealed using nitro-flush technology to ensure the aroma remains consistent over time. You won't find coffee that tastes this fresh anywhere else.

Subscription
Subscribe now to ensure you never run out of your favourite coffees. With no limits, you can choose multiple product types in various characters, in just a few clicks.

Brew Guides
Check out our step-by-step brew guides for tip tips on how to make the perfect cup every time. Available for all brew methods; pods, cafetiere, espresso, cold brew...