Coffee is always a good idea. But sometimes your morning cup just isn't enough. In case you find yourself in need of a second (or even third - who's counting) dose of caffeine to lift your energy and your spirits, we've rounded up some fun ways to enjoy coffee that aren't just limited to knocking back a hot drink. Because, let's face it, it's STILL summer and we want to feel exotic. Plus, we have a bit of extra time on our hands to whip up something delicious.
In addition to our cool and oh-so-easy
Cold Brew Coffee
recipe and our oh-so-grown up
Espresso Martini Mix
, we thought we'd bring you some of the best coffee recipes from our friends around the web. Read on for our pick of the best coffee recipes for summer:
1.The Viral TikTok Trend: Espresso Tonic
Say hello to the espresso tonic – your new favourite summer drink. There's a reason espresso tonics have gone wild on social media this summer; they're super quick and exceptionally easy to make, refreshingly zingy, and photogenic too!
Best when made with one of our coffee pods, the espresso tonic has stolen the crown as coffee beverage of summer 2022 from the dalgona coffee of yesteryear. We love The Metro's recipe - it's simple to follow, and they offer a couple of exotic twists too.
Find it here.
2. The Breakfast Edition: Coffee & Cacao Maple Granola Clusters
We're big fans of the guys at Sheerluxe (naturally, we couldn't have been more flattered when Lifestyle Editor, Heather Steele, included us in her Food & Drink Hotlist earlier this year!) so when this coffee, cacao & maple granola recipe was brought to our attention recently we headed straight to the kitchen to rustle it up. Can confirm: it lives up to the hype and is now our go-to for brekkie on a busy day.
Get the recipe here.
The Gym Bunny's Secret Weapon: Chewy Mocha Coffee Cubes
Why drink a latte when you can eat one? We're joking, of course - nothing could replace our morning brew. But if you're in a rush and in need of a quick power-up before you hit the treadmill or jump on your bike, we know of a Californian foodie who may have just the solution. When Bethany Ugate's recipe for chewable coffee was featured in the Daily Mail, the internet went mad for it. And, not to put words in their mouth (or, technically, on their page), but seeing as the Daily Mail voted our coffee bags the best coffee bags of 2022, we don't think they'd object to you using our award-winning coffee bags to brew the hot coffee needed for the cubes. Just sayin'!
Discover chewable coffee here.
The Chocoholic's Choice: Upcycled Tiramisu
Okay, we know what you're going to say: this recipe calls for Easter eggs but it's so easy and so delicious we couldn't not include it in our favourites. For all other times of year all this recipe needs is a little imagination! You can upcycle any left-over chocolate to make these delectable individual tiramisus. Make your own chocolate moulds (check out YouTube for inspo), or else go traditional and layer up your tiramisu in a pretty glass or a small bowl. Serve with a glass of something strong alongside - we love Amaretto - for ultimate Italian immersion post-supper.
Recipe available here.
The I Scream, You Scream: No-churn Vietnamese Coffee Ice Cream2022
Coffee is the most popular beverage in Vietnam, and it is served in several ways, from cà phê den - strong black coffee -, to cà phê đá - iced black coffee - and, perhaps most famously on the international stage, cà phê sữa đá - iced coffee served with sweet, creamy condensed milk for the ultimate coffee indulgence. Our friends at Olive Magazine - those same pals that voted us one of their favourite coffee subscription boxes of 2022 - have taken inspiration from this sweet & creamy concoction and created a scrumptious summery dessert with a welcome caffeine kick.
Discover how to make here.
So, yes, drink your coffee by all means. But don't stop there. Eat it too! We hope you enjoy recreating some of these delicious coffee recipes from our favourite foodie friends and home. And don't forget to tag and share anything you make with us and them on social media!
Visit our recipe page for creative ideas on how to use your Artisan coffee here, featuring exclusive recipes from our very own Michelin-starred chef, Ashley Palmer-Watts. Click Here.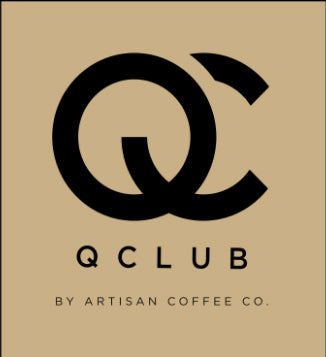 Are you sure?
By not selecting to receive marketing communications you'll lose most of the benefits associated with the QClub
Unfortunately one off product can't be purchased at the same time as subscription purchases.
Please proceed using separate transactions.
Unfortunately subscriptions can't be purchased at the same time as one-off purchases.
Please proceed using separate transactions.
Unfortunately, pre-order products have to be purchased on their own.
Please proceed using separate transactions.