Back To Top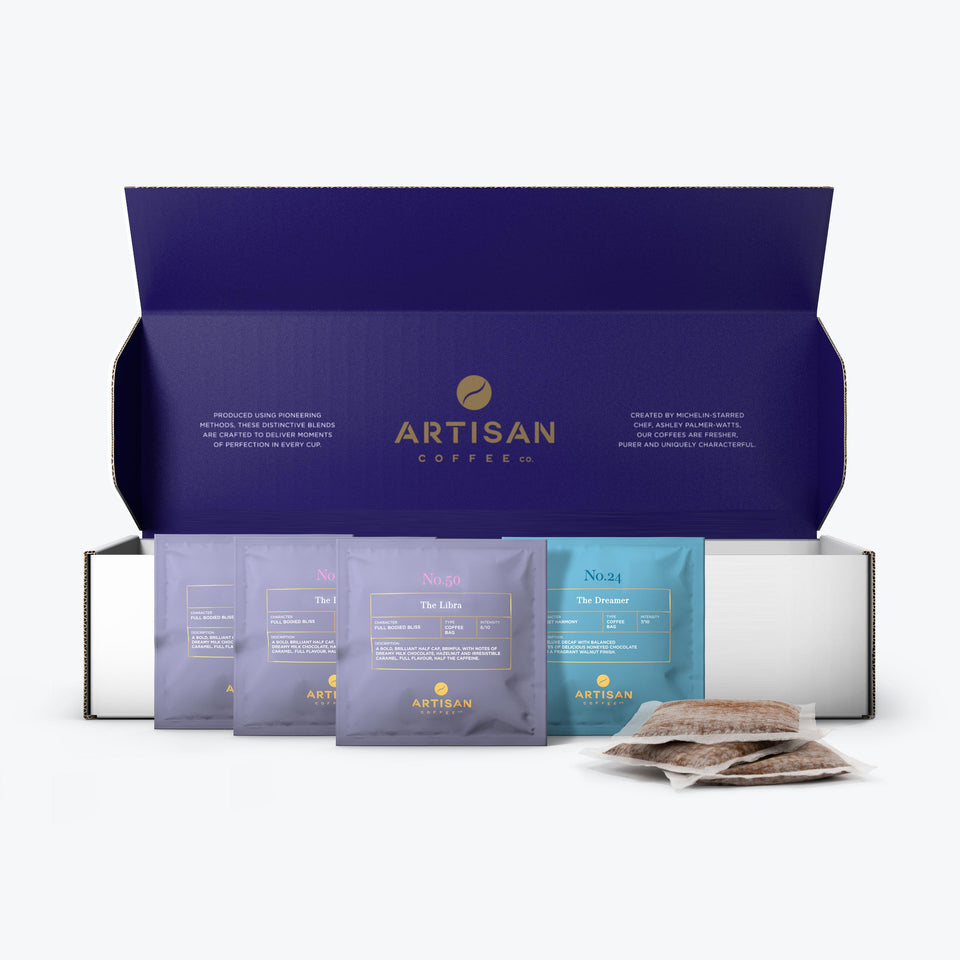 Low Caf Coffee Bag Gift box
**PRE-ORDER dispatch from 28th November**
*NEW* Our Low Caf Gift Set includes both The Libra halfcaf and The Dreamer decaf coffee bags so you can enjoy Artisan coffee at anytime of day.
Revolutionising instant coffee, Artisan's coffee bags are the ultimate convenience for brewing a delicious cup of fresh filter coffee on the go.
Why choose Artisan Coffee Co?
Michelin-starred chef Ashley Palmer-Watts crafts our blends to the nth degree, his culinary expertise creates characterful coffees, second to none.
100% Arabica, speciality grade coffees are expertly blended and roasted to perfection. The result? Six delicious coffees to truly savour.
Our state-of-the-art packaging keeps your coffee at its flavourful best, just as Ashley intended. No aroma is lost. Just cup after cup perfection. Find out more here.
Notes of: Assortment

Contents
| | | | |
| --- | --- | --- | --- |
| Character | The Libra | The Dreamer | |
| Intensity | 8 | 6 | |
| Notes of | Milk chocolate, hazelnut & caramel | Honeyed chocolate & walnut | |
| Origin | Blend | Blend | |
| Type | 12 x Coffee Bags | 6 x Coffee Bags | |
| Weight | 32g | 32g | |
Product Detail
Discover our range of low caf coffee bags, delivered as a gift set in our signature gift box.
This gift set includes:
12 x The Libra halfcaf coffee bags

6 x The Dreamer decaf coffee bags
Character
The Libra: A bold, brilliant half caf, brimful with notes of dreamy milk chocolate, hazelnut and irresistible caramel. Full flavour, half the caffeine.

The Dreamer:

Decaf coffee deluxe, a million miles from any decaf you ever tasted. The Dreamer contains natural soothing notes of delicious, honeyed chocolate, balanced with a fragrant walnut-like finish. Delightful morning noon or night, with none of the caffeine side effects.
Aromax50
Our unique aroma optimisation process - Aromax50 - allows Artisan Coffee Co. to protect essential aroma molecules. Our coffee is at its optimum before portioning into coffee bags with Nitrogen to suspend this coffee at its best until brewed. A pioneering process Artisan have introduced to maximise aroma into the most characterful coffee.

Our difference
Inspired by champagne houses, we blend and roast our beans to perfection. Developed with a Michelin-starred chef, this is coffee as you've never tasted before.

Packaging
Our coffee is sealed using nitro-flush technology to ensure the aroma remains consistent over time. You won't find coffee that tastes this fresh anywhere else.

Subscription
Subscribe now to ensure you never run out of your favourite coffees. With no limits, you can choose multiple product types in various characters, in just a few clicks.

Brew Guides
Check out our step-by-step brew guides for tip tips on how to make the perfect cup every time. Available for all brew methods; pods, cafetiere, espresso, cold brew...