Back To Top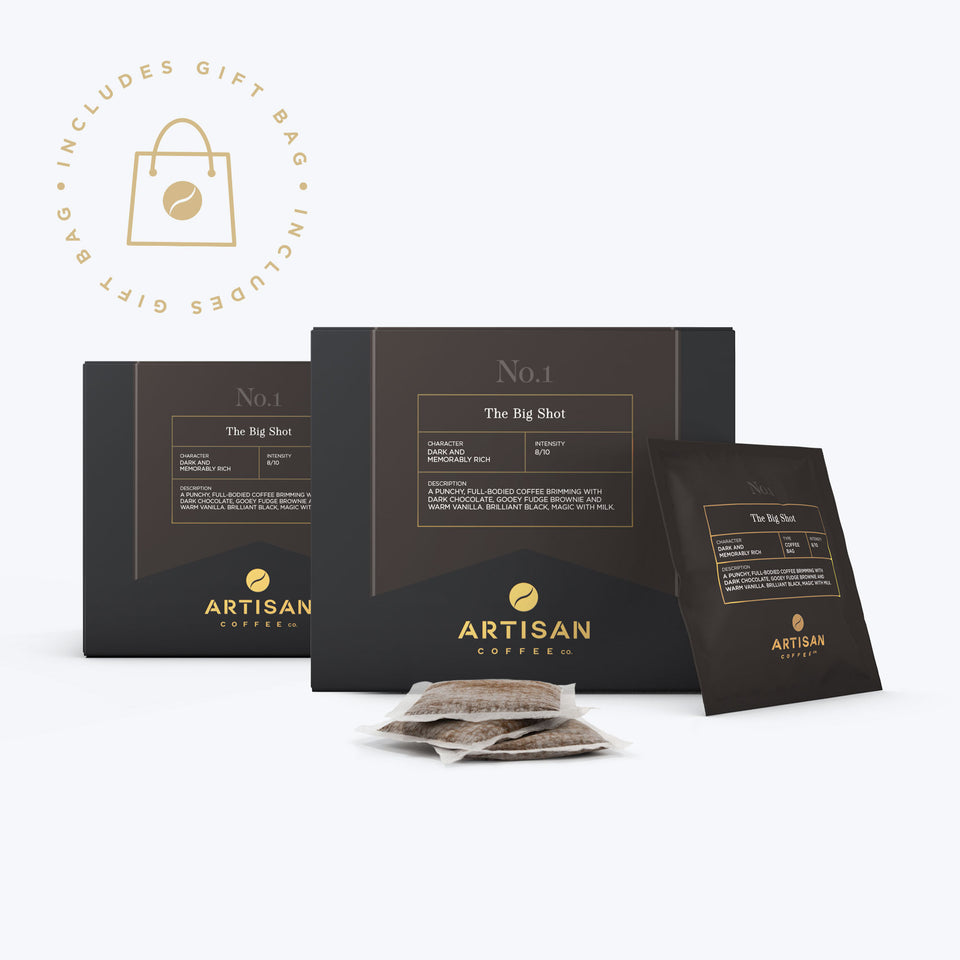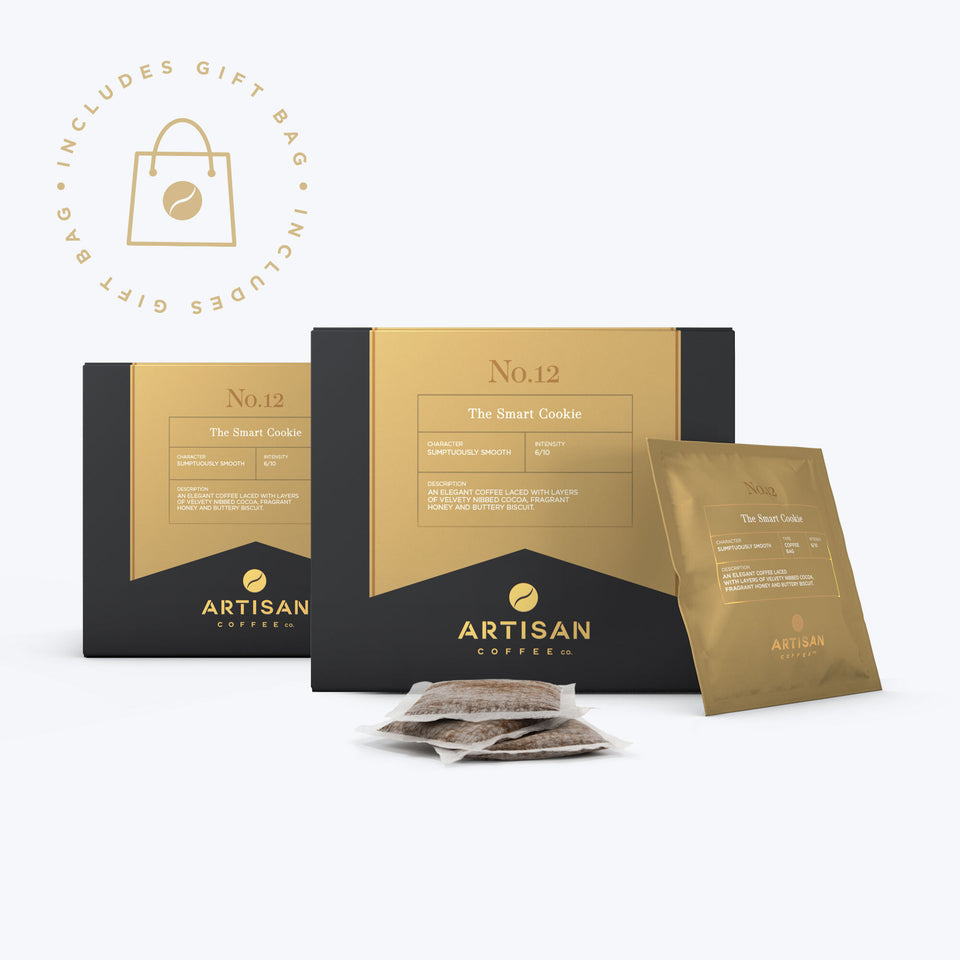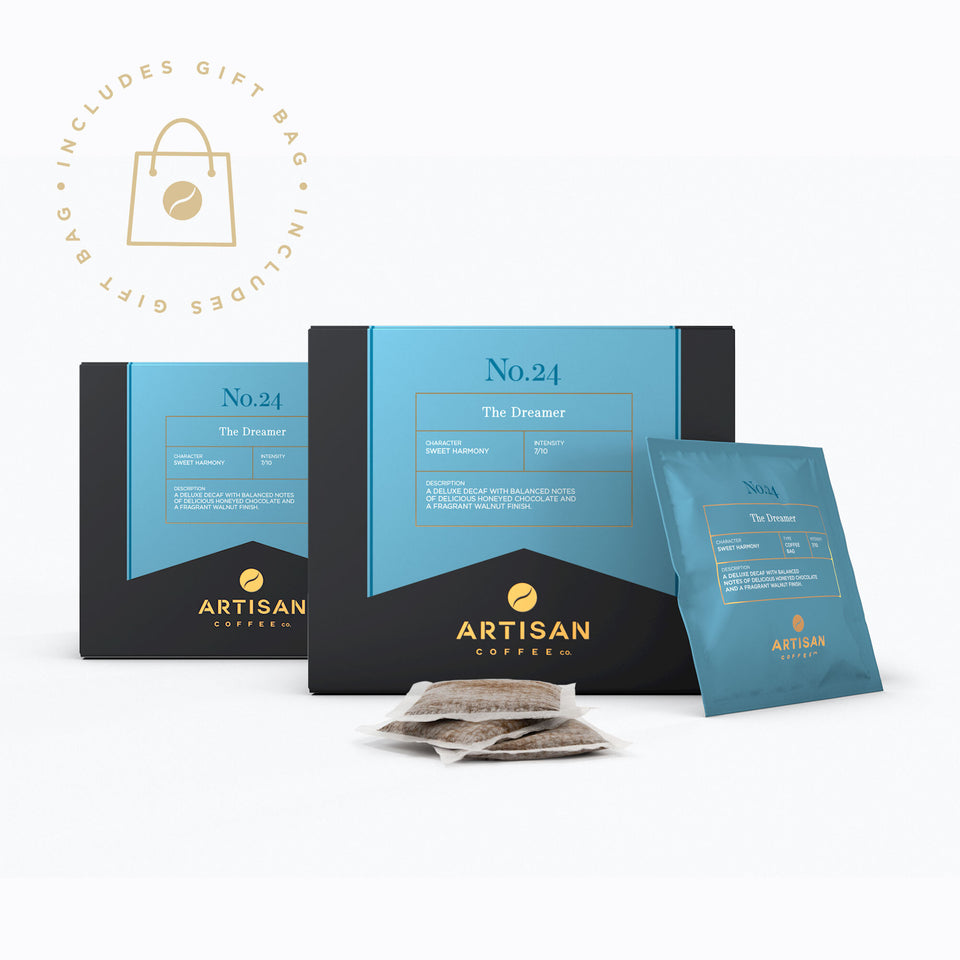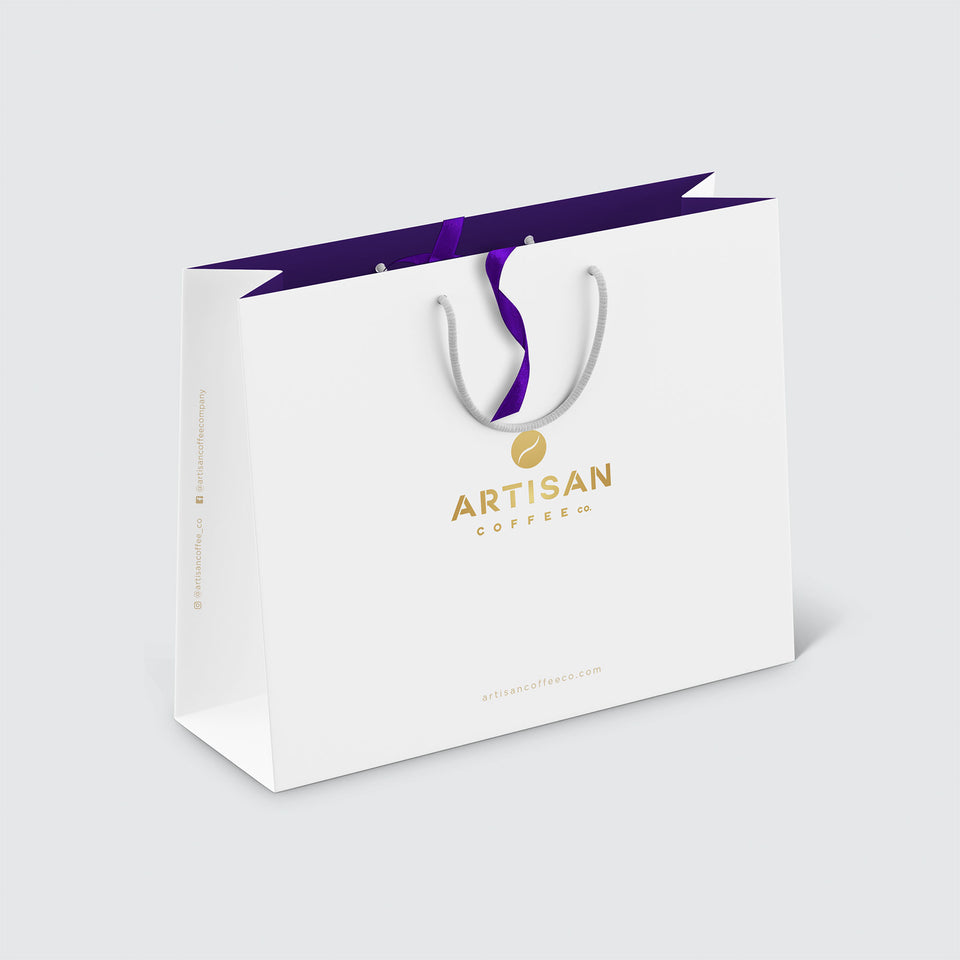 The Coffee Bag Gift Set [40 Coffee Bags + Gift Bag]
Type

Coffee bag

Weight

320g
Our new gift set includes two boxes of our best selling coffee bags, that's 40 coffee bags and you have the choice between two of your favourite characters:
The Big Shot: notes of dark chocolate, fudge & vanilla
The Smart Cookie: notes of nibbed cocoa, honey & biscuit
The Dreamer (decaf): notes of honeyed chocolate & walnut
Both boxes come packed into one of our new luxury gift bags together with a surprise treat in each, two of our perfectly paired chocolate flights to enjoy alongside your fresh brew!

Contents
| | | | | |
| --- | --- | --- | --- | --- |
| Character | The Big Shot | The Smart Cookie | The Dreamer | |
| Intensity | 8 | 6 | 7 | |
| Notes of | Dark chocolate, fudge & vanilla | Nibbed cocoa, honey & biscuit | Honeyed chocolate & walnut | |
| Origin | Blend | Blend | Blend | |
| Type | 40 x Coffee Bags, 2 x Chocolates | 40 x Coffee Bags, 2 x Chocolates | 40 x Coffee Bags, 2 x Chocolates | |
| Weight | 320g | 320g | 320g | |
Product Detail
100% natural Arabica speciality coffee

Each box contains 20 individual coffee bags

Individually packed in nitrogen flushed pockets to maintain maximum freshness and protect the aroma of our freshly roasted coffee

Easy tear open for the ultimate fresh coffee convenience

Simply brew your coffee bag directly in a cup for the ultimate instant fix of delicious, fresh coffee.
Characters
The Big Shot : Intense, powerful and packed with character. The Big Shot delivers a punchy, full-bodied coffee brimming with natural hints of dark chocolate, gooey fudge brownie and warm vanilla. Brilliant black, magic with milk.
The Smart Cookie : The ultimate comforter, The Smart Cookie is an elegant coffee reminiscent of velvety nibbed cocoa, fragrant honey and buttery biscuit. Perfect mid-morning for a deluxe break time.
The Dreamer: Decaf coffee deluxe, a million miles from any decaf you ever tasted. The Dreamer contains natural soothing notes of delicious, honeyed chocolate, balanced with a fragrant walnut-like finish. Delightful morning, noon or night, with none of the caffeine side effects.
Aromax50™
Our unique aroma optimisation process - Aromax50™ - allows Artisan Coffee Co. to protect essential aroma molecules. Our coffee is at its optimum before portioning into sachets with Nitrogen to suspend this coffee at its best until brewed. A pioneering process Artisan have introduced to maximise aroma into the most character coffee.

Our difference
Inspired by champagne houses, we blend and roast our beans to perfection. Developed with a Michelin-starred chef, this is coffee as you've never tasted before.

Packaging
Our coffee is sealed using nitro-flush technology to ensure the aroma remains consistent over time. You won't find coffee that tastes this fresh anywhere else.

Subscription
Subscribe now to ensure you never run out of your favourite coffees. With no limits, you can choose multiple product types in various characters, in just a few clicks.

Brew Guides
Check out our step-by-step brew guides for tip tips on how to make the perfect cup every time. Available for all brew methods; pods, cafetiere, espresso, cold brew...