Discover our luxuriously decadent twist on a Christmas classic.
Our luxurious and indulgent, spin on everybody's favourite cocktail, the classic espresso martini, is deliciously smooth, intensely Christmassy and made with all natural ingredients - not an additive or preservative in sight!
Our martini mix has been expertly blended by Michelin-starred Ashley Palmer-Watts using a combination of The Genius coffee infused winter wheat vodka, The Genius cold brew and a rich and silky, Demerara and Muscovado syrup with a touch of sea salt.
Choose to finish simply with either freshly-brewed pod coffee or bean to cup espresso depending on what you have to hand for the ultimate crowd-pleasing Christmas cocktail. Both are equally delicious when vigorously shaken over ice and yield a sumptuous and velvety Espresso Martini.
Ashley wanted to create a premixed Espresso Martini that is as complex as it is pure, allowing the coffee's natural depth and aroma to sing. Ashley has created a game-changingly delicious festive tipple by combining the very best quality natural ingredients with his knowledge and experience of cutting-edge infusion techniques and, finally, by layering Artisan coffee in different forms to enrich and add complexity to your finished cocktail.
For the eagle-eyed among you, you'll notice that our bottle has been adorned with the number 83. We wanted to pay homage to the legendary origins of the Espresso Martini in London in 1983.
The story goes that West End bartender Dick Bradsell created the drink at Fred's Club when a - reputedly now world famous – catwalk model came in and asked him for something to wake her up between shows. His solution was to combine vodka, fresh espresso, coffee liqueur and sugar into what he called a 'Vodka Espresso' (later renamed the' Pharmaceutical Stimulant' before fans of the caffeinated cocktail settled on 'Espresso Martini'). The Espresso Martini is now one of the world's favourite drinks, and we have Dick Bradsell to thank.
Our limited edition gift set includes our 700ml of our luxurious and decadent espresso martini mix, a Boston cocktail shaker, 20 x The Big Shot Pods or 240g The Big Shot whole bean (simply make your selection at checkout), and a cocktail recipe card with four exclusive recipes from Ashley Palmer-Watts.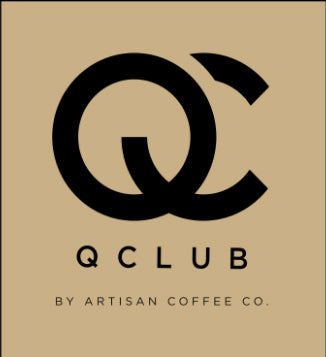 Are you sure?
By not selecting to receive marketing communications you'll lose most of the benefits associated with the QClub
Unfortunately one off product can't be purchased at the same time as subscription purchases.
Please proceed using separate transactions.
Unfortunately subscriptions can't be purchased at the same time as one-off purchases.
Please proceed using separate transactions.