It's a tricky time all round for get-togethers and gatherings. They are few and far between this year. And that means you'll be looking to make the ones you do have extra special. You'll need just a handful of tricks up your sleeve if you want to impress the crowds that descend on your home over the festivities. Your guests will want a great conversation, lots of laughter and, of course, a full belly come the end of the evening. However, we have a few ideas to take your festive celebration to the next level and that'll have everyone reminiscing well into the new year.
1. Knock your guests' socks off with a mind-blowing Espresso Martini
Discover our luxuriously decadent twist on a Christmas classic.
Our luxurious and indulgent, spin on everybody's favourite cocktail, the classic espresso martini, is deliciously smooth, intensely Christmassy and made with all natural ingredients - not an additive or preservative in sight!
Our martini mix has been expertly blended using a combination of The Genius coffee infused winter wheat vodka, The Genius cold brew and a rich and silky, Demerara and Muscovado syrup with a touch of sea salt.
Choose to finish simply with either freshly-brewed pod coffee or bean to cup espresso depending on what you have to hand for the ultimate crowd-pleasing Christmas cocktail. Both are equally delicious when vigorously shaken over ice and yield a sumptuous and velvety Espresso Martini.
2. Rustle up a show-stopping chocolate dessert
Michelin-starred Ashley Palmer-Watts has created two game-changing chocolate-centric festive desserts guaranteed to please a crowd. You'll want to be sure to make double quantities of Espresso Cream to dollop on top of the aforementioned Espresso Martinis!
Ash has created a silky and sumptuous Milk Chocolate Mousse with Chocolate Crumble and Espresso Cream, and an indulgent Mocha Tart which are both easy to make ahead of time and designed to please a crowd.
Both recipes are super simple to make and incredibly versatile. If you're feeding children, just leave the espresso cream off the top of the mousse. Furthermore, the chocolate crumble topping for the mousse doubles as the base for the Mocha tart making it a doddle to knock up not just one, but two, delectable holiday sweet treats.
3. Offer your guests an unparalleled selection of after-dinner coffees
You and your guests can indulge and delight in our entire range of coffee characters and chocolate flights, delivered in our signature presentation box. Our box has been created so that you can experience the ultimate tasting experience shared with those you love (or by yourself - we won't tell if you don't!) this Christmas.
Our signature chocolate collection includes all six Artisan chocolate flights, discs of delicious chocolate perfection delivered straight to your door in time for your celebrations this year. Oh, and each chocolate has been meticulously paired with one of our characterful coffee blends to mutually enhance and amplify their characteristics.
Whatever your plans and however you're celebrating over the festive holidays, Artisan has something to make the festive season that bit sweeter. Browse our coffee collections and visit our Christmas Gift Shop for more inspiration.
And lastly, from all of us at Artisan Coffee. Co, Merry Christmas & wishing you all a Happy & Healthy New Year!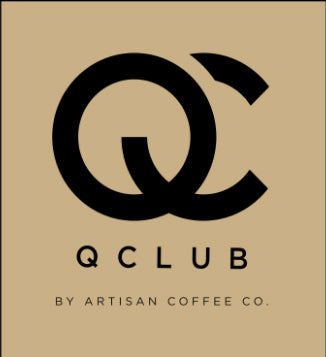 Are you sure?
By not selecting to receive marketing communications you'll lose most of the benefits associated with the QClub
Unfortunately one off product can't be purchased at the same time as subscription purchases.
Please proceed using separate transactions.
Unfortunately subscriptions can't be purchased at the same time as one-off purchases.
Please proceed using separate transactions.