Is our packaging recyclable? What is our sustainability mission? Why did we choose to package our coffee in single serve sachets? These are just some of the questions you guys ask us on an almost weekly basis. As such, we thought it was high time that we got our resident coffee aficionado and culinary wizard Ashley Palmer-Watts to answer some of your most pressing questions. Read on to find out more.
1. Why did you choose single serve packaging?
Typically ground coffee is sold in large bags of 250g, but as soon as you open a bag this size the coffee's freshness and aroma will quickly start to depreciate, resulting in loss of flavour and stale tasting coffee.
Our 30g ground coffee sachets are perfectly portioned so each coffee you make from the same pack will taste as fresh and delicious as the first. Precisely engineered so you never need to compromise ever again on your fresh coffee experience. What's more, our ground coffee packs contain 12 x 30g sachets, which means you actually get 110g more coffee than you do with a standard 250g bag. More coffee, better tasting and less waste.
2. How long from purchase do I have to drink your coffee?
We recommend Whole Bean is consumed between 10 days and 3 months from roasting, as long as you keep your beans in a cool place. Once the bag of Whole Bean is opened we recommend that you use within two weeks bag to ensure a great cup of coffee.
Our Coffee Bags, Ground Coffee and Pods remain at their best for 12 months after roasting due to the Nitro flushed protective packaging, ensuring the quality, taste and aroma remain consistent over time.
3. Is your packaging recyclable?
Our goal is to switch all our packaging to 100% recyclable in 2022. Currently our pods and outer boxes are all fully recyclable.
We are also very excited to announce our collaboration with Podback, the UK's leading coffee pod recycling service launching end Jan 2022.
Podback is the revolutionary coffee pod recycling service with a humble but powerful goal: to give people who enjoy the quality and taste of coffee pods a simple and easy way to recycle them.
4. Do you have a sustainability mission?
Absolutely, whilst we know we can't be perfect, we'd sure like to get close! Whether it comes to improving sustainability, becoming more environmentally friendly, or reducing unnecessary waste, we are committed to change and betterment. We review our packaging, processes and supply chains on a frequent basis, and we love hearing from our customers about how you think we could do even better.
5. What are the benefits of subscribing?
Subscribing is not only a great way to ensure you never find yourself without fresh coffee, but by investing in a monthly coffee subscription, you're helping to cut down on both the packaging required to fulfil your order and the amount of transportation needed for delivery, thereby reducing your carbon footprint.
We also recommend monthly deliveries rather than weekly because our coffee stays fresher for longer. Our cutting edge aroma-optimisation process, Aromax50, and nitro-flushed packaging ensure your fresh coffee is bursting with flavour in every cup.
So whether you decide to buying in bulk or purchase a monthly coffee subscription you help us to reduce CO2 emissions and to achieve our goal of carbon neutral accreditation by 2023.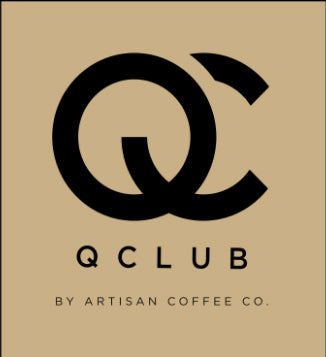 Are you sure?
By not selecting to receive marketing communications you'll lose most of the benefits associated with the QClub
Unfortunately one off product can't be purchased at the same time as subscription purchases.
Please proceed using separate transactions.
Unfortunately subscriptions can't be purchased at the same time as one-off purchases.
Please proceed using separate transactions.
Unfortunately, pre-order products have to be purchased on their own.
Please proceed using separate transactions.