In case you missed it, we've been quite busy of late and there is plenty more to come in the next few weeks. From International Coffee Day to UK Coffee Week it's all about the coffee this month! Here's a round up of what we have been up to so far:
Artisan Coffee Co. strike a pose at Vogue
We supported MacMillan's Biggest Coffee Morning by rocking up to Condé Nast Headquarters in central London (in our incredibly stylish coffee van) and serving up hot cups of joe in exchange for generous donations to Macmillan from the fashionable editors of Tatler, GQ, Glamour...all in the name of Vogue!
International Coffee Day
We popped up at SITU LIVE - an immersive retail destination inside London's Westfield shopping centre, where shoppers can get hands-on with the latest products from a world-class collection of leading and cutting-edge brands, and where we are now stocked - offering tastings of our characterful blends and tutorials on how to use the game-changing Morning Pod Machine. All profits from ticket sales for the tastings - hosted by our very own Michelin-starred chef, Ashley Palmer-Watts - were donated to Project Waterfall.
Dancing our way through October
We will be supporting Cheltenham College's 'Zumbathon' by providing more than enough caffeine to keep them boogying throughout the day, with all donations from coffee sales going to Cirencester Housing for Young People (CHYP), is a small local charity that provides supported accommodation for vulnerable young people who find themselves with nowhere safe to stay. This incredible charity aims not just to offer these young people a roof over their heads, but to provide practical and emotional support and to teach them how to look after themselves, help them gain confidence and live a more fulfilling life.
We made friends with UK Coffee Week 10-16th October 2022
An an official 'friend' of UK Coffee Week we will be gifting a whole range of coffee prizes that you can win in raffles, give aways and competitions, keep an eye out on their social channels from 10-16h October. Watch this space for further announcements as we strive to build a long-term partnership with Project Waterfall, donating funds to support all the wonderful work that they do in communities all across the globe.
If you have an event or would like to have further information on our coffee van or how we work with charities and partners please contact us here, we're always looking for more ways to help our community!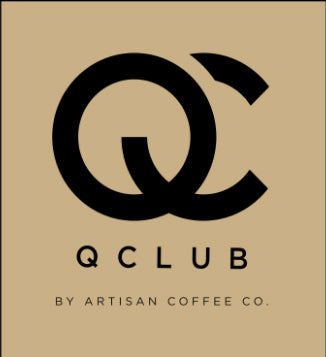 Are you sure?
By not selecting to receive marketing communications you'll lose most of the benefits associated with the QClub
Unfortunately one off product can't be purchased at the same time as subscription purchases.
Please proceed using separate transactions.
Unfortunately subscriptions can't be purchased at the same time as one-off purchases.
Please proceed using separate transactions.
Unfortunately, pre-order products have to be purchased on their own.
Please proceed using separate transactions.