Autistic Ian has always had the gift of artistic talent, but he has also had to overcome a severe stammer and negotiate high-functioning autism. In 2012, while serving as Executive Creative Director of Europe at one of the world's leading advertising agencies, Ian suffered a mental breakdown and became homeless. He is still homeless to this day.
While living on the road, Ian passed the time drawing and sharing his work on social media. Ian's talent caught the eye of many, including that of our very own Ashley Palmer-Watts.
In a first for both us and for him, Ian has created a selection of six exclusive prints inspired by the six coffee characters in our signature collection. Shop Autistic Ian x Artisan Coffee Co. collaboration collectibles here.
We caught up with Ian to chat about his huge talent, his unconventional – and not necessarily linear – path to success & his collaboration with Artisan Coffee Co.
Q: When did you first discover your talent?
A: I'm not sure I ever did. What I do is so natural to me, I never saw it as a talent and to a point I still don't. Art is just how I communicate. Art is everything to me.
Q: What did you enjoy doing as a child that suggested you might one day become an artist?
A: I couldn't speak as a child, through nerves and a debilitating stammer, so I'd draw or paint what I needed or was asking for. My pictures quickly became very popular with friends and family. I think I sold my first piece for 50p when I was 5 years old.
I also loved toy cars (I still do actually), picture books and my Dad's workshop. In his workshop, I could paint pictures on pieces of wood I found, or repaint my toy cars. I expressed myself as best I could from a very young age. Dad didn't find out about me using his workshop until much later on.
Q: You spent much of your childhood in Cornwall. How has that impacted you as an artist?
A: Cornwall is an autistic boys dream. The power of the ocean gave me so much energy, the vibrant colours of the coastal cottages consumed me and the ability to catch my dinner and cook it on a beach was awe-inspiring. Just wow! Every time I need to think or create, I return to Cornwall's north coast; the Tate in St Ives is my favourite place.
Q: Any particular career highlights pre-Autistic Ian?
A: I have been so lucky to have been involved in some amazing projects in my career. The first piece I worked on in my first job as an art director at an advertising agency was around anti-apartheid and creating awareness adverts to help free the legendary Nelson Mandela.
Q: Your breakdown some years ago made you homeless. How were you able to create art against the odds?
A: I've been homeless for some years, mainly living in my car. It took some very desperate, cold and icy nights under several blankets to finally re-engage with what is natural to me; I simply couldn't have survived much longer without my craft. I had paper and pens in the car, so I'd go and find a quiet spot away from people to try and get something down on paper. Strangely, even in my darkest state, I still found joy in translating whatever came into my head onto paper, and I still had happy thoughts strangely! Whatever pops into my head continues to be my primary muse.
Q: Do you have a favourite place for getting inspired?
A: Oh yes, I definitely have favourite places where I feel my most calm and creative. As I said, I'm still homeless, and even though I am able to stay in B&B's every now and then, I still try to get outside to create as often as I can. Nature is a true source of inspiration for me. South Oxfordshire is a particular favourite. I also love parts of Windsor and of course Cornwall.
Q: How did you end up collaborating with Artisan?
A: I still had an old phone, so whilst charging it in coffee shops, I began to create an Instagram page. That motivated me greatly. A few pieces in and I created a very bright and bold shiney octopus. I wasn't even sure how much I liked this particular piece, but I posted it on my page anyway.
Then I heard a ping and I couldn't believe what I was seeing. I had received a notification that 'Ashley Palmer Watts' had sent me a message. The incredible Michelin starred chef wanted to buy the octopus for his octopus-obsessed daughter Sophia! I was so thrilled.
Ashley and his son Max, met me shortly after. He seemed as fascinated with me as I was with him. It was so surreal. Little did I know that Ashley was already trying to work out a way for us to work together in the future.
Life went back to normal for a while until, a few months later, Ashley messaged me about meeting again. He shared his idea for the Artisan Art Series and our collaboration began there and then.
Q: What has the collaborative process looked like in practice, from initial conversations to producing the original six pieces and then creating the limited edition prints?
A: From the very start, detail was everything and I expected no less.
When Ashley ran me through his vision for the Art Series, he was full of passion and I felt completely inspired. The initial plan was I'd create two pieces at a time, one for each character, but as soon as I started I couldn't stop. Once I had my head in the Artisan Coffee Co. 'zone', I needed to get all six out of my system and to create the perfect coffee family in one go. That proved the right thing to do.
On the day I presented the works to Ashley, I arrived early, laid all my pictures out, and gave him my preamble before I let him into the room.
I remember knowing that second that I saw his reaction to my work that I'd got it right. I'd delivered exactly what he wanted. After what I'd been through in life, that was such a powerful and emotional moment for me. I'll never forget it.
Ashley took the art work away and the process of creating prints began. Tests were done and it took time to get the very best print created. Ashley's attention to detail throughout all this was exactly as you'd expected from a chef and creative of his calibre. He was exacting and without compromise in his approach.
Q: What was it about Artisan that made you say 'yes' to collaborating?
A: Your desire to create the very best, and to never settle until something is perfect. We both have those values. They're deeply ingrained in both of us.
I knew of Ashley and Artisan Coffee Co. before we even met and was already in awe of Ashley's incredible Michelin starred career. I recalled having read a quote online that said:
"Only a handful of chefs around the world can cook with the same complexity as Ashley Palmer Watts."
I knew that, with Ash now heading things up at Artisan HQ, he'd be throwing his heart and soul into the blends and into the brand in the only way he knows how.
Q: What do you hope will come from this collaboration?
A: Apart from bringing such beautiful coffee flavours to life and being part of something huge, it is my dream to dispel the stigma surrounding two words in particular. Those words are:
Homeless and Autistic.
Sadly, those words still have negative connotations for many people.
Homeless people are not there by choice. Things happen. Life happens. People suffer mental breakdowns. It's not that difficult to – and one is never too far away from – losing one's entire world.
People with high functioning autism, like me, are highly focused, deeply loyal and unerringly loving. We absorb every little piece of information around us. I'm so lucky and grateful to have found a way to express myself through art. My goal is to help others who haven't yet found their path.
Q: Which coffee character is your favourite to drink? Why?
A: The Big Shot! It's deep and dark and its very name conjures up fabulous images which make me excited. My piece for the 'Big Shot' is coming later this year. It's very powerful – just like the blend it represents.
Ian's six incredible pieces will be available exclusively to customers who make a purchase of £30 or more from our website. We have also released a series of china mugs depicting Ian's creations, from which a percentage of each sale will be donated to National Autistic Society. Shop All Here.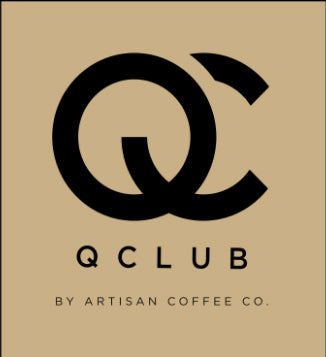 Are you sure?
By not selecting to receive marketing communications you'll lose most of the benefits associated with the QClub
Unfortunately one off product can't be purchased at the same time as subscription purchases.
Please proceed using separate transactions.
Unfortunately subscriptions can't be purchased at the same time as one-off purchases.
Please proceed using separate transactions.
Unfortunately, pre-order products have to be purchased on their own.
Please proceed using separate transactions.