Rituals are the new resolutions: start 2023 as you mean to go on
Ah, the lull between Christmas and New Year. Could this be our favourite part of the festive period? Quite possibly! Cosying up with family, tucking into Quality Street and left-over Chocolate Orange, long walks and – mostly – ignoring our emails! Funny, however, that the very things that deliver the most pleasure at this time of year – slouching on the sofa, living off leftovers and forgetting to change out of our pyjamas – are also the things that get us thinking about how we intend to better ourselves in the new year.
This year, though, we're doing things a little differently. We're not trying to lose those Christmas pounds by the end of January, we're not adopting another short-lived gym habit, we're not going to try and visit all the countries on our bucket list by this time next year, and we are certainly not promising weekly fridge clear-outs in 2023.
Instead, we are focusing on New Year's rituals; practices that bring attainable, sustainable joy to our lives, making the ordinary extraordinary by transforming mundane activities into sacred happenings and creating moments in our daily lives that ground, root and centre us so that we can show up as the best versions of ourselves.
What are Rituals?
A ritual is a behaviour that you perform regularly but which is subtly different from a routine behaviour such as brushing your teeth or making the bed. Rituals are meaningful and are done with intent. Rituals align with what's important to you and give you the space to put your values into practice. Rituals are highly personal so what works for one person may not work for someone else, but we've come up with a few suggestions to inspire you to boost your wellbeing as we approach the new year.
Here are some of the rituals we'd like to embrace in 2023:
1. Wake Up an Hour Earlier Each Day
Almost all successful people commit to some form of morning routine. Why? Because beginning each day slowly, and with intention, helps us to connect to our body and minds, and gives us the space to establish our priorities for the day ahead.
Begin your day rushed, stressed, and in a flap and you'll likely have a rushed, stressful and unproductive day. Start the day feeling strong and centred, and your day is much more likely to be calm, productive and stress-free.
By waking up an hour earlier you give yourself the opportunity to ground into the day at a pace that suits you. Wake up before the kids, make a cup of coffee, journal, meditate, take a walk, work-out or do whatever it is that makes you feel most alive.
Starting the day with your self-care box well and truly ticked will leave you with more gas in the tank and will make you a better employee, friend, partner and parent.
2. Transform Your Daily Coffee Routine into A Self-Care Ritual
And what better way to usher in your extra hour than by enjoying a perfectly brewed coffee?
Reach for your favourite blend, select a cup you really love drinking from, take your time to brew your coffee with care, attention, love and intention, and allow that first sip of coffee to set the tone for the day ahead.
For bonus points – and to transform your morning coffee routine into a life-affirming ritual - find a comfy nook, light a candle, leave your phone elsewhere and be entirely present while you take the time to be present with your drink. Consider the mouthfeel of the coffee as it passes your lips, the aromas and flavours in the cup, and the thoughts and feelings that surface as you take the time to drink without distraction.
3. Bring Back Baths
While a shower is usually quicker and more convenient – particularly if you have a busy schedule or young children – slowing down, running a bath and taking the time luxuriate can have huge benefits for both your physical and mental wellbeing.
Hot baths have been shown to reduce blood pressure and slow heart rate, to reduce the production of the stress hormones cortisol and aldosterone, and to aid a good night's sleep.
Take your bath to the next level by treating yourself to a full-body scrub using left-over coffee grounds, or anti-age your skin with an antioxidant facemask - simply mix coffee (grounds for exfoliating or brewed espresso for a smoother feel) with organic honey and a pinch of turmeric, apply liberally to your face and neck. Wash off after ten minutes to reveal a radiant, youthful glow.
4. Ritualise Movement
We said we weren't joining the gym this year and we're keeping our promise, but! And it's a big 'but'. Moving is important! Movement is a fundamental pillar of our physical, mental, and emotional health and we sincerely believe in building it into to each and every day.
So, how do we ritualise something most of find it difficult to motivate ourselves to do? We have a cunning plan. Our cunning plan not only gets you moving, but it saves you money and supports the environment too.
Next time you fancy popping out for coffee – whether by yourself or to meet a friend – consider making your coffee at home and then heading out for a twenty-minute walk while you sip.
You have nothing to lose and so much to gain: the coffee will be made exactly as you like it; you'll have baked movement into your day; if you use a reusable cup that's less plastic going to landfill; and – if you shop with us – you'll be spending 30p a brew rather than £3.50 at your local cafe.
The bottom line: While we are eschewing the traditional notion of resolutions this New Year, we are excited to embrace this annual opportunity to renew and enhance our enjoyment of life in a handful of seemingly small but ultimately profound ways.
Let us know which rituals you'll be adopting in 2023. Big or small, you'll be amazed at the difference that transforming routine into ritual can make to your wellbeing and happiness.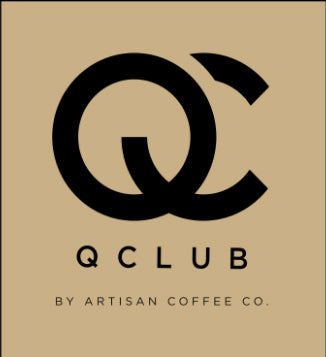 Are you sure?
By not selecting to receive marketing communications you'll lose most of the benefits associated with the QClub
Unfortunately one off product can't be purchased at the same time as subscription purchases.
Please proceed using separate transactions.
Unfortunately subscriptions can't be purchased at the same time as one-off purchases.
Please proceed using separate transactions.
Unfortunately, pre-order products have to be purchased on their own.
Please proceed using separate transactions.