Back To Top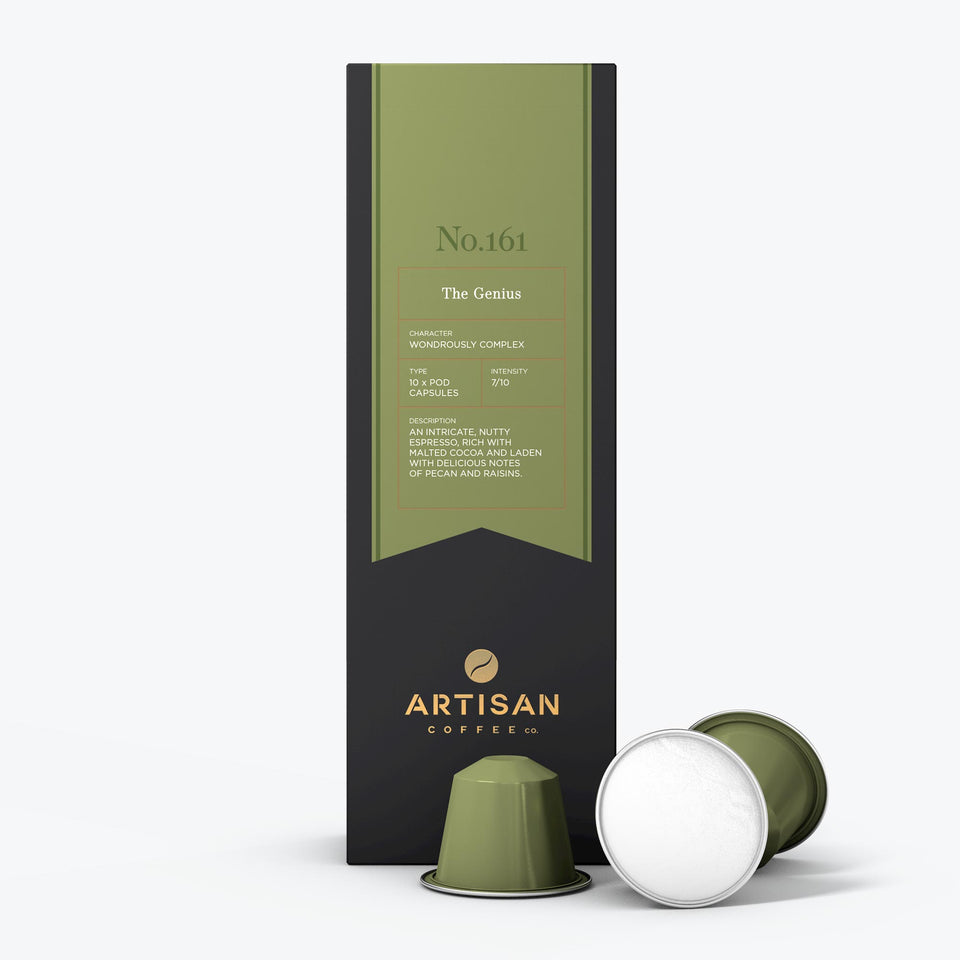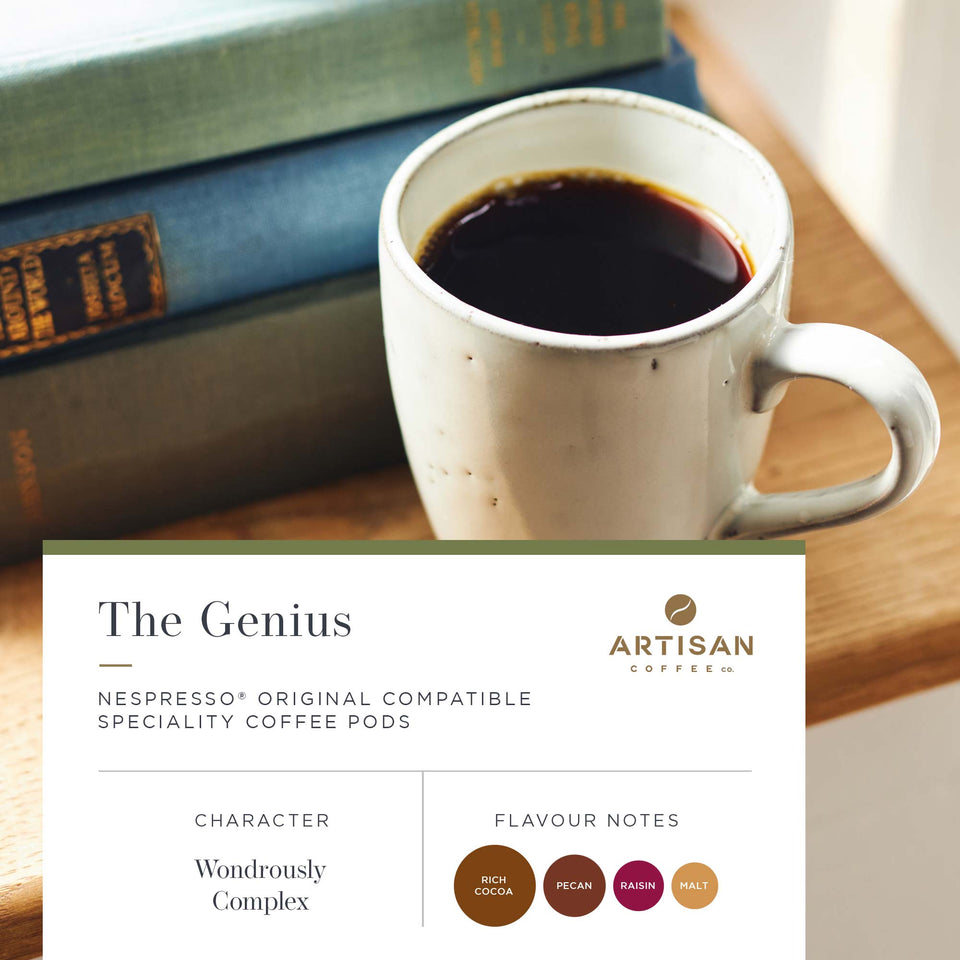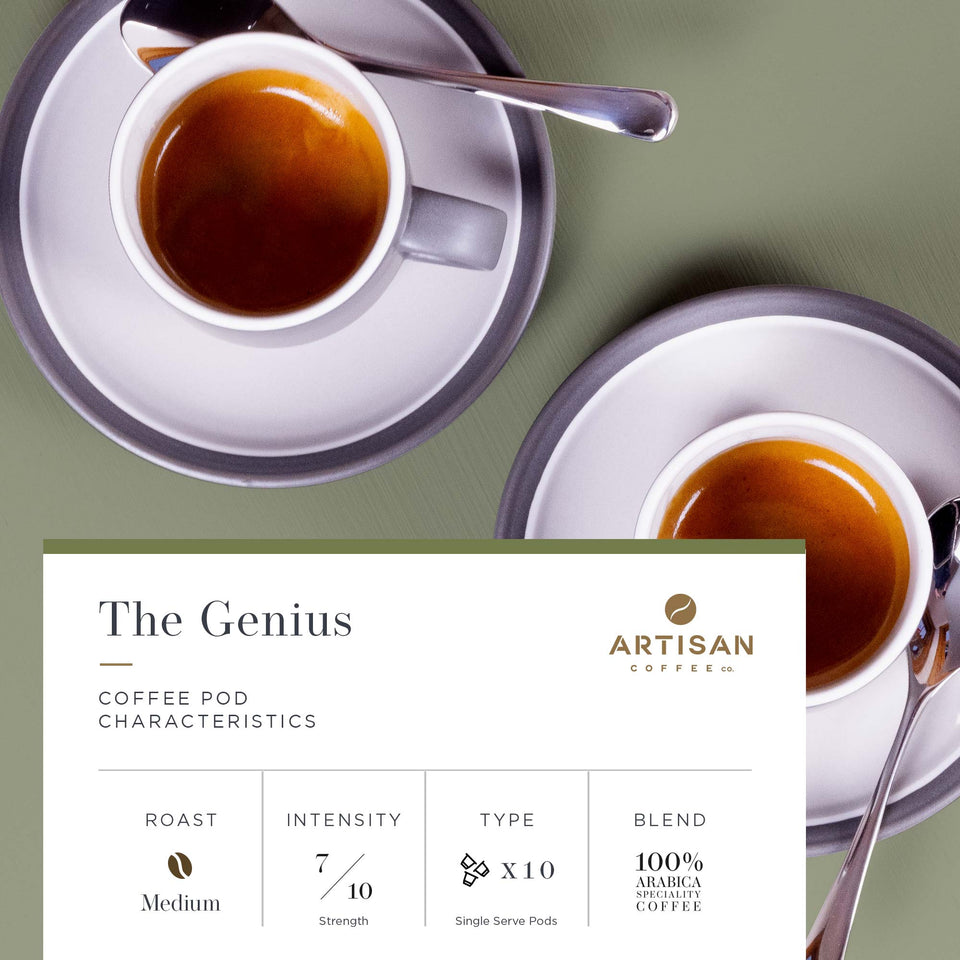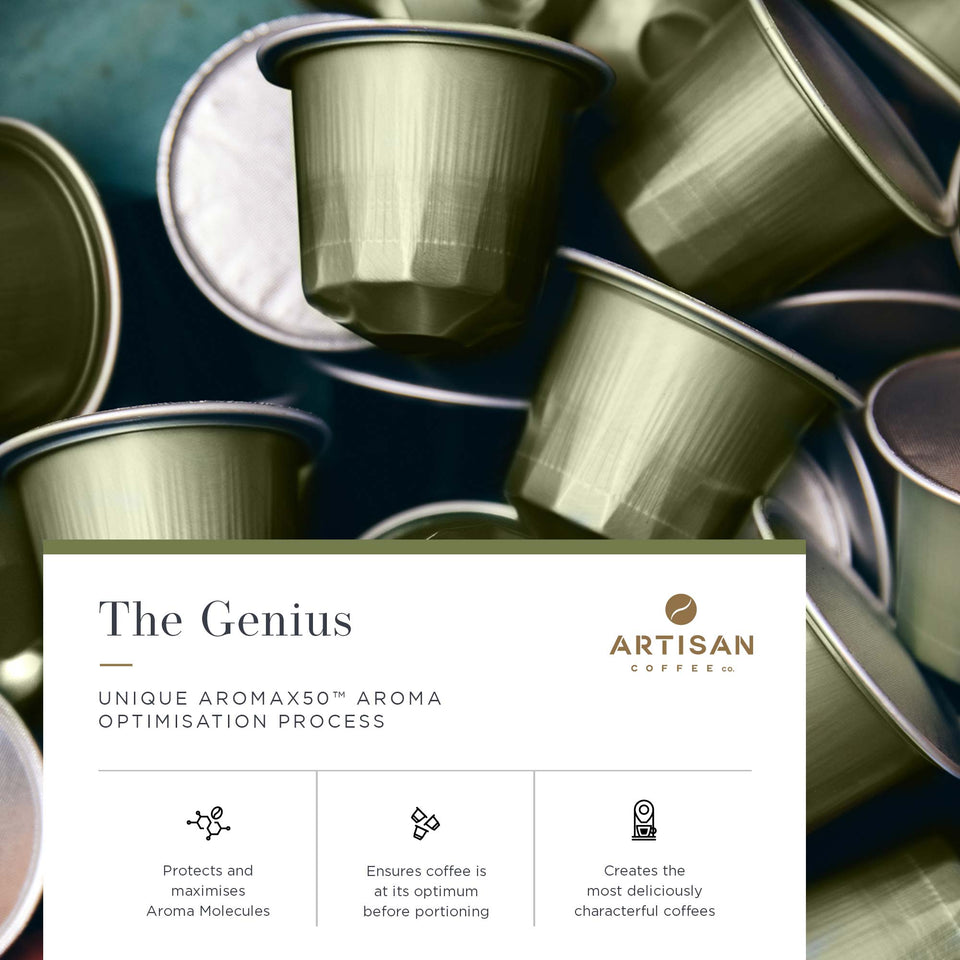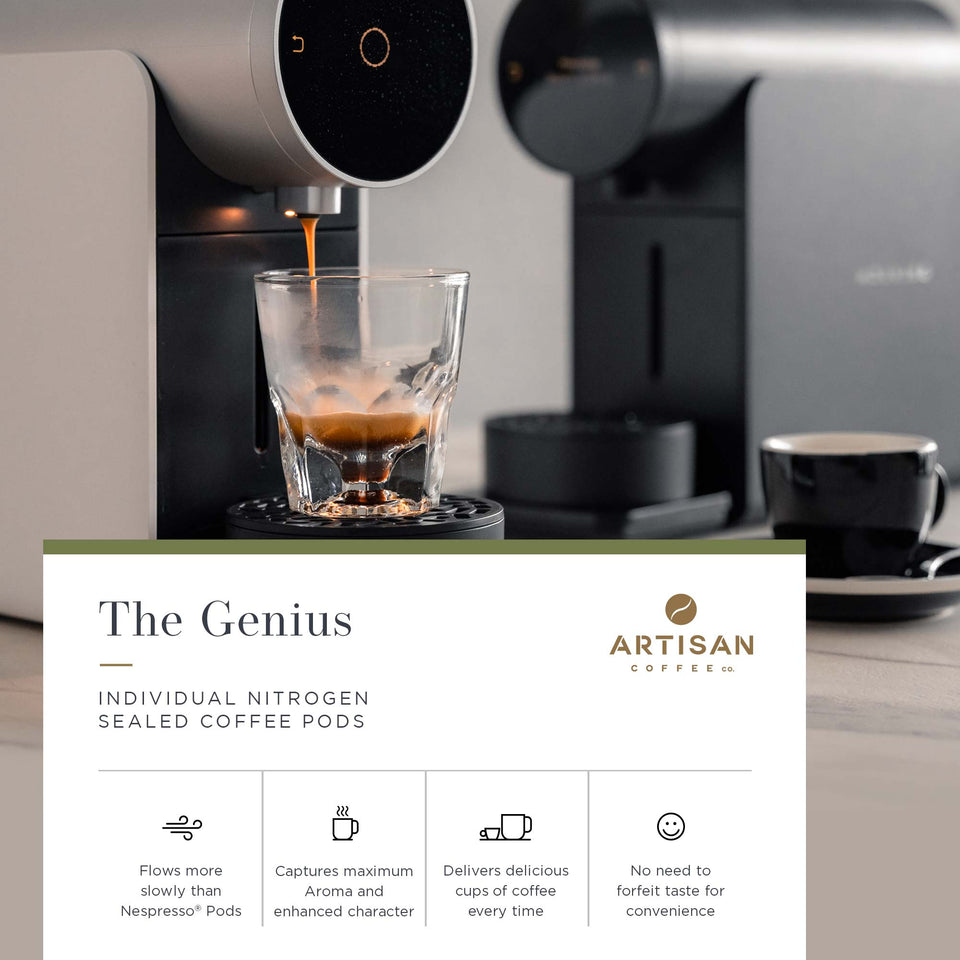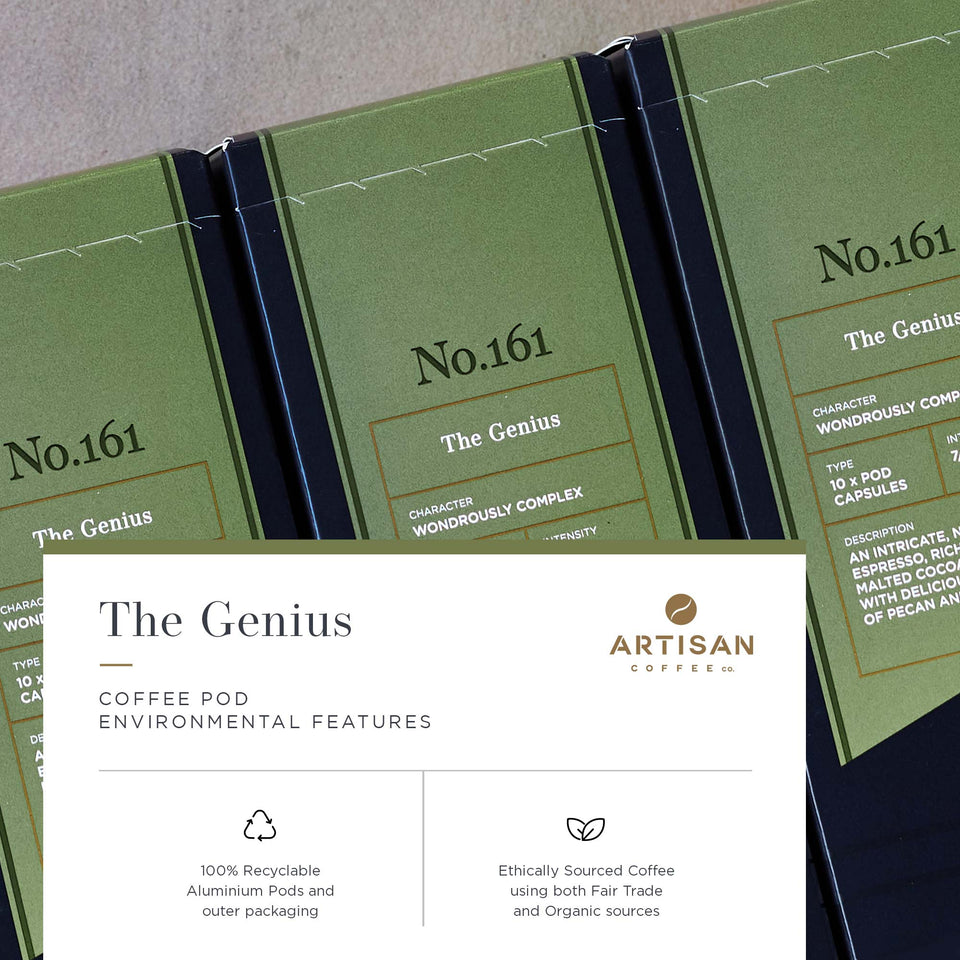 The Genius Nespresso® compatible coffee pods
Intensity

7/10

Type

Pods

Weight

54g

No. Of Cups

10
Artisan Coffee Co. finely tune all blends and roast profiles for each brew method, capturing the unique characteristics of each coffee in every pod.
Our Nespresso® Original compatible pods are available in all characters and suitable for use in most pod machines on the market (with the exception of the Nespresso Vertuo®).
We have collaborated with Podback, the UK's leading recycling service. For a simple and easy way to recycle your pods, add your bag to any order, fill with up to 150 pods and drop it off at your nearest Collect+ store.
Get your free Podback bag here.
For more information on Podback check out this page here.
Notes of: Malted cocoa, pecan & raisin
Perfect Pairing:
The Genius Chocolate Flights
The Genius Chocolate Flights

Malted cocoa, pecan & raisin. Created to pair perfectly with The Genius coffees.
£6.00

Product Detail
100% natural Arabica speciality coffee

100% recyclable

Our pods are nitrogen flushed and sealed to maintain maximum freshness

10 x Nespresso® original compatible pods

If something's worth doing, it's worth doing properly. Artisan pods have been designed to flow more slowly than Nespresso pods to capture maximum aroma and enhanced character in every cup.
Character
A uniquely tasty coffee blend. The Genius is an intricate, nutty coffee, rich with natural suggestions of malted cocoa and delicious notes of pecan and raisin. A delicious break from the norm.
Aromax50™
Our unique aroma optimisation process - Aromax50™ - allows Artisan Coffee Co. to protect essential aroma molecules. Our coffee is at its optimum before portioning into pods with Nitrogen to suspend this coffee at its best until brewed. A pioneering process Artisan have introduced to maximise aroma into the most characterful coffee.

Our difference
Inspired by champagne houses, we blend and roast our beans to perfection. Developed with a Michelin-starred chef, this is coffee as you've never tasted before.

Packaging
Our coffee is sealed using nitro-flush technology to ensure the aroma remains consistent over time. You won't find coffee that tastes this fresh anywhere else.

Subscription
Subscribe now to ensure you never run out of your favourite coffees. With no limits, you can choose multiple product types in various characters, in just a few clicks.

Brew Guides
Check out our step-by-step brew guides for tip tips on how to make the perfect cup every time. Available for all brew methods; pods, cafetiere, espresso, cold brew...