When it comes to entertaining, Christmas is always the busiest time of year. Whether you're hosting friends for Christmas Eve, feeding the family on Christmas day, or welcoming the in-laws on Boxing Day, there are hungry mouths everywhere and different people - and palates - to please.
Remember that while the culinary offering, decor and music are of course important, what's more important is that you're happy and having a good time. Your mood will dictate the vibe more than anything you provide your guests to eat or drink. That being said, there are a couple of sure-fire edible and drinkable delights that you can rustle up in no time at all, and which will leave your guests full, happy, contented, and with very fond memories indeed.
Indulge your guests with The Big Shot Brownie
If there's a better time of year to indulge in a gooey, oozy, rich and very grown-up dessert, we certainly don't know about it.
Too yummy to resist, our Big Shot Chocolate Brownies – developed by none other than award-winning chef Ashley Palmer-Watts - are the ultimate crowd-pleasing pud, with a touch of coffee and a whole load of heavenly cocoa goodness, they are so easy to make and can be made kid-friendly by eschewing the coffee. These deliciously moreish squares will have everyone racing back for more so make sure you keep a few back for yourself when plating – chef's treat!
Spoil your visitors silly with an After Dinner Coffee Cream
Bored of Baileys? Us too! That's why we've created this recipe for an After Dinner Coffee Cream that is a welcome update to the famous after-supper tipple. Combining coffee and your favourite liquors, Ashley has come up with the most delicious and oh-so-simple to make after dinner shot for you and your guests to knock back to seal the deal on the most wonderful of festive get-togethers!
Not the one entertaining? Don't show up empty handed!
Not the ones doing the hosting this year? If you're lucky enough to have been invited to a loved one's abode for this year's festivities, you'll no doubt be on the lookout for an original and memorable way to show your gratitude and appreciation. Well, we have just the thing!
Our brand-new Ultimate Coffee & Chocolate Selection Box includes all of your favourite characters from our luxury range of coffees, in all of our most convenient brew types plus each coffee's paired chocolate! It's the ultimate way to ensure everyone is happy this Christmas.
The selection box includes:
12 x Nespresso® Original compatible pods
12 x Coffee Bags
6 x 30g Ground Coffee sachets
12 x Individually wrapped chocolates
Brew Guides & Tasting Sheet
Whatever your plans and however you're celebrating over the holidays, we have something guaranteed to make the festive season that bit sweeter for you and the people you're spending them with.
Check out our Gift Collection and take a peek at our seasonal Special Offers for more inspiration.
From all of us at Artisan Coffee. Co, wishing you a fun-filled festive season, and a happy and healthy New Year!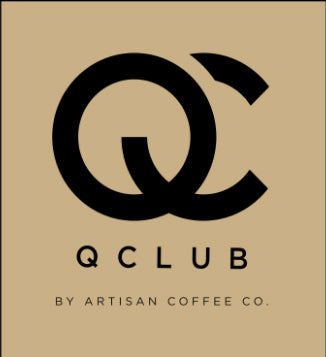 Are you sure?
By not selecting to receive marketing communications you'll lose most of the benefits associated with the QClub
Unfortunately one off product can't be purchased at the same time as subscription purchases.
Please proceed using separate transactions.
Unfortunately subscriptions can't be purchased at the same time as one-off purchases.
Please proceed using separate transactions.